(Keith Beck's Zigman Bird Hypomania is now available for purchase)
Lump'N'Loaf Records' Keith Beck's Zigman Bird is premiering his new album Hypomania on Friday, February 24, 2017 at Roxy and Dukes Roadhouse in Dunellen, N.J.
Event Details
Friday, February 24, 2017, 9:00 p.m.
Roxy and Dukes Roadhouse
745 Bound Brook Rd, Dunellen, N.J. 08812 732.529.4464
Facebook Event Page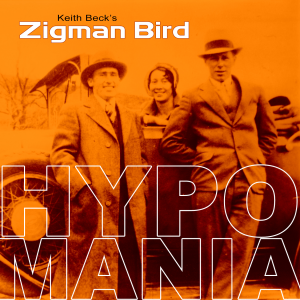 Hypomania (noun, psychiatry)
1. An abnormal psychiatric condition of extreme excitement, milder than mania but characterized by great optimism and overactivity.
2. The new rock album from Keith Beck's Zigman Bird
The songs on Hypomania, a title chosen by Keith to describe his own feelings throughout the album's creation, easily weave multiple musical genres. From the autobiographical coming-of-age pop of "The Ballad of Aunt Ann and Uncle Eddie," the psychedelic riffing of "Monsterpiece" to the full-out garage rock anthem of "Fishing Line," Beck's new album continues his evolution as an artist, this time without the accompaniment of his previous band,Zigman Bird.
As Keith explains, "Leading a full band sometimes slows down the creative process, so I decided to write and record a solo album using some new ideas and adopting the band name into my musical project."
Recorded by fellow labelmate Anthony Kroposky (A Halo Called Fred/Little Dipper) at his Fish On Fire Studios, Hypomania's 8 tracks are just a starting point in Keith's continuing journey as a musical artist.
"I'm in a good spot now that the album's finished," laughs Keith, "I'm happy to have gotten it done so quickly and so close to what I had in mind. Hopefully people will enjoy listening to it as much as I enjoyed creating it."
Hypomania will be performed in its entirety, featuring Keith with a full band, at the album's release party on Friday, February 24 at Roxy and Dukes Roadhouse, Dunellen, N.J. and will be available for download through Lump'N'Loaf Records, ZigmanBird.com and most online retailers on Tuesday, February 28.
For more info, please visit:
zigmanbird.com
facebook.com/zigmanbird
twitter.com/zigmanbird
zigmanbird.bandcamp.com
reverbnation.com/ZigmanBird