Lump'N'Loaf Records is excited to announce the official release of "We Love You All" by eclectic geek folk-rock act A Halo Called Fred.
Promising never to record again after disbanding in 1999, New Brunswick, NJ favorites A Halo Called Fred re-formed in 2011 with a new lineup amidst a frenzy of song-writing, recording, and playing – with particular focus on geek and steampunk-themed events – culminating in "We Love You All," the first new Halo album in 14 years.
While maintaining the band's sense of humor, fun, trademark energy, and use of tupperware, this album pushes the envelope by fully embracing and incorporating all of the band's musical influences. Joined by Tiny on bass and Queenie on violin (previously having played on the song "Nekkid Hoedown" in 1999), the new album's use of richer vocal harmonies and more complex musical arrangement has made this album a more fully musical experience than previous Halo offerings.
"We Love You All" Tracklist:
1. Transparent Head Monkey – 2:57
2. Turtles All the Way Down – 2:51
3. Bite 'em On the Neck – 2:42
4. Drinking for Science – 2:53 (EXPLICIT)
5. In An Alternate Reality – 2:17
6. Good Day (Took a Good Shit) – 2:02 (EXPLICIT)
7. You're a Caveman – 2:48
8. Put the Toothpaste Back In the Tube – 3:01
9. Barry the Steampunk Monster – 1:49
10. We Love You All – 4:20
11. Drinking for Science – 2:53 (Radio Edit)
12. Good Day (Took a Good S#!t) – 2:02 (Radio Edit)
Recorded at Fish on Fire Recordings, Trenton, North Plainfield, and Raritan, NJ
Engineered and produced by Anthony Kroposky; co-engineered and co-produced by Carmen Verderosa
Mixed at Woodrock Studios, Raritan, NJ
Mastered at Azimuth Mastering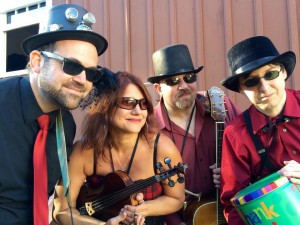 About A Halo Called Fred:
The best geek rock ever played on guitar, bass, fiddle, and kitchenware, with songs featuring such topics as pirates, steampunks, cavemen, and any body part or flying thing you can think of. Halo has performed with King Missile, been produced by a member of Ween, and featured on The Doctor Demento Show. Their quirky, off-beat style has been paired with Burlesque and Sideshow acts, and they have participated in numerous film projects, including the short film "Barry the Steampunk Monster" and the 2010 feature film "Everything Fred Tells Me is True." They are currently regulars at off-beat cultural events such as Wicked Faire, The Steampunk World's Fair, and the Macabre Faire Film Festival.
A Halo Called Fred line-up:
Geverend Dee – Strum-Strum (electric guitar), Woody (acoustic guitar), keyboards, most vocals
Brushwood Thicket Farmer – Bang-O-Tron (kitchenware, cookie tins, random percussion), more vocals
Tiny – Uprighty (upright bass), The Shark (electric bass), Geddy (bonus bass), backing vocals
Queenie – Baby Vee (violin), Uko Ono (ukulele), backing vocals
Chester – Cosmic Vibes (invisible)
For more info, please visit:
Bandcamp
Music Videos
Website
Facebook
Twitter
Soundcloud